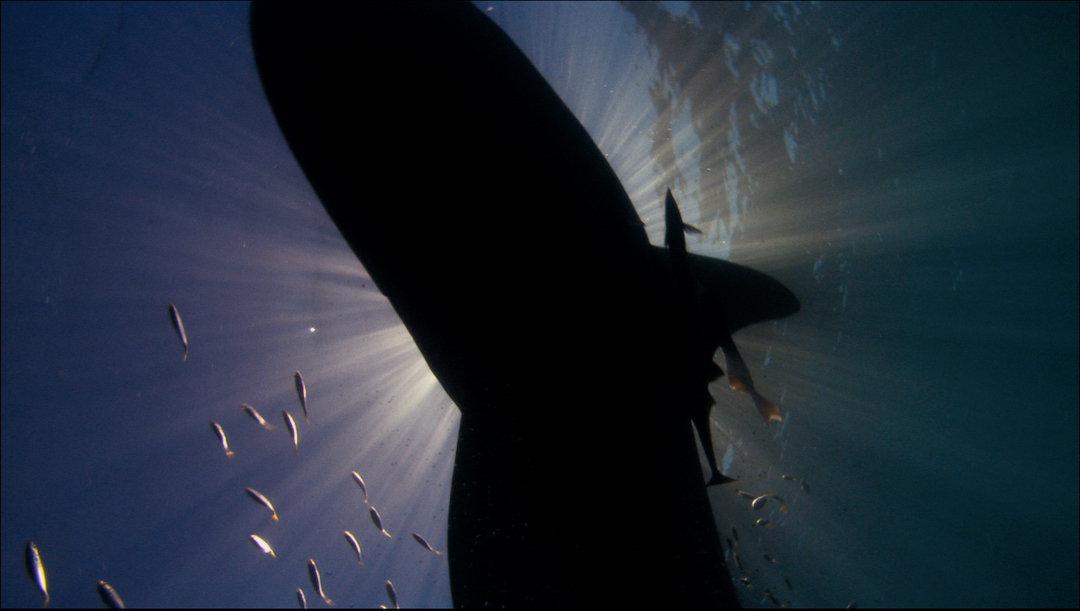 Interview
Modern Forms curator Nick Hackworth delves into a conversation with Shezad Dawood about the origins of his ambitious, long-term project Leviathan and its continuous evolution from a ten-part film series to a body of work including paintings, sculptures, and most recently a virtual reality trilogy informed by conversations with scientists and researchers. Together, this growing project interweaves the ocean, the power of the state, anthropogenic climate change, and pathology to critically reflect on the present while speculatively reflecting on an unfolding future.
Nick Hackworth : How did the whole Leviathan project start? And what's the connection to Hobbes?
Shezad Dawood : I was writing a paper on democracy which became a sort of mad, fragmentary text, exploring different pathological takes on the future. I was separately conducting some research into the oceans, and given numerous oceanic metaphors for the state, the two parallel tracks merged together. And in a way I could place Hobbes halfway between the Torah and Melville in terms of the apocrypha of the previous cycle.
NH : Both the films, that are the main thrust of the project, and the initial body of paintings you showed in Venice in 2017, embody this idea of cycles and time and memory. The films are collectively titled Leviathan Cycle and the textile paintings collectively titled Labanof Cycle. Can you talk about both these bodies of work a little more? And their relation to time?
SD : Initially my idea was to try and make ten films, each narrated by a different character moving through our world 20-50 years from now. And each of the scripts for these films would be developed through conversation: with Oceanographers, Activists, Environmentalists and Marine Biologists. So in a sense the future time the characters inhabit would be at least a little informed by actual scenarios and scientific modelling. In that way I saw it as a kind of community-building exercise and mapping…..I like that passage from science to fiction. And then the idea of thinking about the present moment in terms of cycles of geological, as well as more recently anthropocentric time. With the paintings, these were really drawing on a dialogue with Cristina Cattaneo of the Labanof (Laboratory of Anthropological Forensics) at the University of Milan. Her work archiving recovered remains and personal effects of refugees and migrant and from the sea bed between Tripoli and Lampedusa is both vital and crushing in what it reveals about our inability to establish a level of empathy and compassion across our species (let alone across the nonhuman sphere). Cristina gave me access to her archives, and I began to mimic their process: creating my own cataloguing methods in order to distance myself emotionally from their content, while also trying to find a way to communicate it. And then I started to paint, trying to render each object and each life it pertained to, with some uniqueness and respect.
NH: How have you made the jump to VR with Leviathan, and has this been successful in communicating your message to broader or different demographics?
SD : It was the suggestion of a curator friend, who having enjoyed other work I'd done using VR and other digital media, that I expand the Leviathan project in that direction. To be honest I was wary, as I am about most things, of them getting too convoluted or complex, but it was speaking to Madeleine Van Oppen and Louise Firth – two incredible scientists (based in Queensland and Plymouth respectively), that finally convinced me. Their modelling ventured further into the future than my scenarios, and looked at everything from species hybridity and accelerated evolution to methods for mitigating sea level rise. These in turn became some key thematics and elements that I began to explore, and suddenly I had also launched the first of a proposed trilogy of VR works set 150, 300, and 500 years into the future – and so we're back to time again. How does one start to play a part in the present, through being present to the future?
And surprisingly enough this served to further extend audiences for the work, with the first part of the trilogy having already been exhibited in Shanghai, Toronto Liverpool and Copenhagen. And I think the VR has simply added another pathway back to the website and other attendant material on the project. And definitely broadened the age range and took the work out of the traditional format of a gallery or institutional exhibition.
Leviathan – on matter, form and power
About
The title of Shezad Dawood's work references the multiple uses of 'Leviathan' through time, most overtly quoting Thomas Hobbes's social contract of 1651. In Hobbes's frontispiece, the top-down nature of the state is clear, its different components cascading from the figure of a single god-like tyrant. Dawood's work is instead predicated on multiple subjects that are outside the power of a state, moving laterally across stories and geographies to destabilise a unitary, cohesive subjectivity. The project's 10-part film cycle, Virtual Reality trilogy, sculptures, paintings, neon and extensive public programme and research archive are brought together on an online platform designed by OK-RM, which incorporates the visual typology of Hobbes's frontispiece – see the cover for one of the research papers especially commissioned for the Leviathan Reading Room by Megan Hayes and Jeffi Diamanti. The political origins of Leviathan are also referenced in the episodic format of the film series, which evoke the seriality of the political pamphlet.
Serial Stories
Leviathan Cycle (2017–) envisages a future eerily like our present, whose inhabitants are the survivors of a cataclysmic solar event. The episodes are developed by Dawood in dialogue with a wide range of marine biologists, oceanographers, political scientists, philosophers, neurologists and trauma specialists. Each film – of which five are now complete – is written from the point of view of an individual character, and their fictional narratives are carefully interwoven with archival footage, linking the looming spectre of climate breakdown to human-scale stories.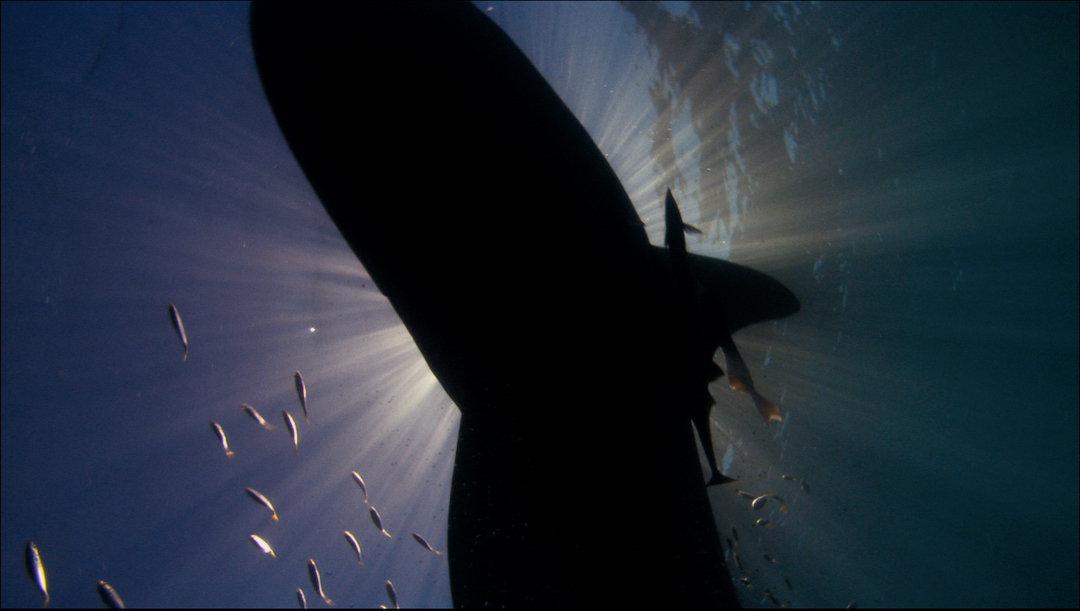 Leviathan Cycle, Episode 1: Ben (2017)
A solar cataclysm has wiped out a large part of the human population. Ben reminisces about his childhood spent roaming the back corridors of the Natural History Museum in London (that contain, amongst other marvels, Darwin's original specimen jars from the Beagle expedition) and his fascination with the Giant Squid preserved in the Marine Research labs.
Leviathan Cycle, Episode 2: Yasmine (2017)
Yasmine, a woman of North African origin, ekes out an existence in the derelict, former Victorian Market Hall in Plymouth. Ben happens upon her hideout, and we follow Yasmine's inner monologue and exterior journey, through musings on borders, migration, species and social niceties. Towards the end of the episode, the pair decide to part for warmer climes, and leave Plymouth by boat as the Mayflower did in 1620.
Leviathan Cycle, Episode 3: Arturo (2017)
Ben and Yasmine arrive at a strange and enigmatic community based on an island in the lagoon of Venice. They engage in scavenging raids to the mainland and partake in the group's Bacchanalian orgies. Their gluttonous sexual vagrancy is paralleled with images of overfishing and unnecessary cruelty in the fishing industry of the Mediterranean.
Leviathan Cycle, Episode 4: Jamila (2018)
Ben and Yasmine continue further south to the Moroccan coast, where they are attacked by Jamila and her group of parasitic bandits. The ethics of survival and predator-prey relationships in both human and marine species are explored, as members of another group intervene. But is this out of the frying pan and into the fire for the protagonists?
Leviathan Cycle, Episode 5: Ismael (2018)
Our protagonists are taken captive aboard a gigantic cargo ship, whose megalomaniacal captain Ismael entertains biblical pretensions. Ben is made to 'pay his passage', while a ghostly Yasmine stalks the empty corridors of the ship. Whales and whaling become a key subject – interrogating colonial and indigenous politics in the process.
Archiving Loss
Leviathan expands beyond film to encompass sculptural, painting and textile works. This suite of paintings is based on Dawood's work with the Laboratory of Anthropological Forensics (LABANOF) at the University of Milan. Led by Cristina Cattaneo, a team of forensic anthropologists go out with UN rescue teams and catalogue personal possessions recovered from the seabed, when a refugee ship sinks attempting the Lampedusa crossing from North Africa to Sicily.
This archive is then used to help provide closure to family members of the missing, as well as lobby national governments and the European Parliament when they fail to meet their obligations to refugees under international law.
Dawood worked with Cristina from LABANOF to identify a certain number of 'representative' objects from the much larger archive, as a way to try and replicate the forensic process, as well as to find a system with which to treat such sensitive material. Each object or series of objects is painted and screen-printed onto a Fortuny textile, to highlight the essential contradiction between what is considered precious.
These works were originally presented in Venice as part of a collaboration with Fortuny Venezia, where the artist and the chief designer at Fortuny discussed Mariano Fortuny's own migrant position in Venice, and his use of a syncretic language combining patterns from Europe, North Africa and the Middle East – this has been one of the reasons for the success of his designs.
Beyond Leviathan: Leviathan Legacy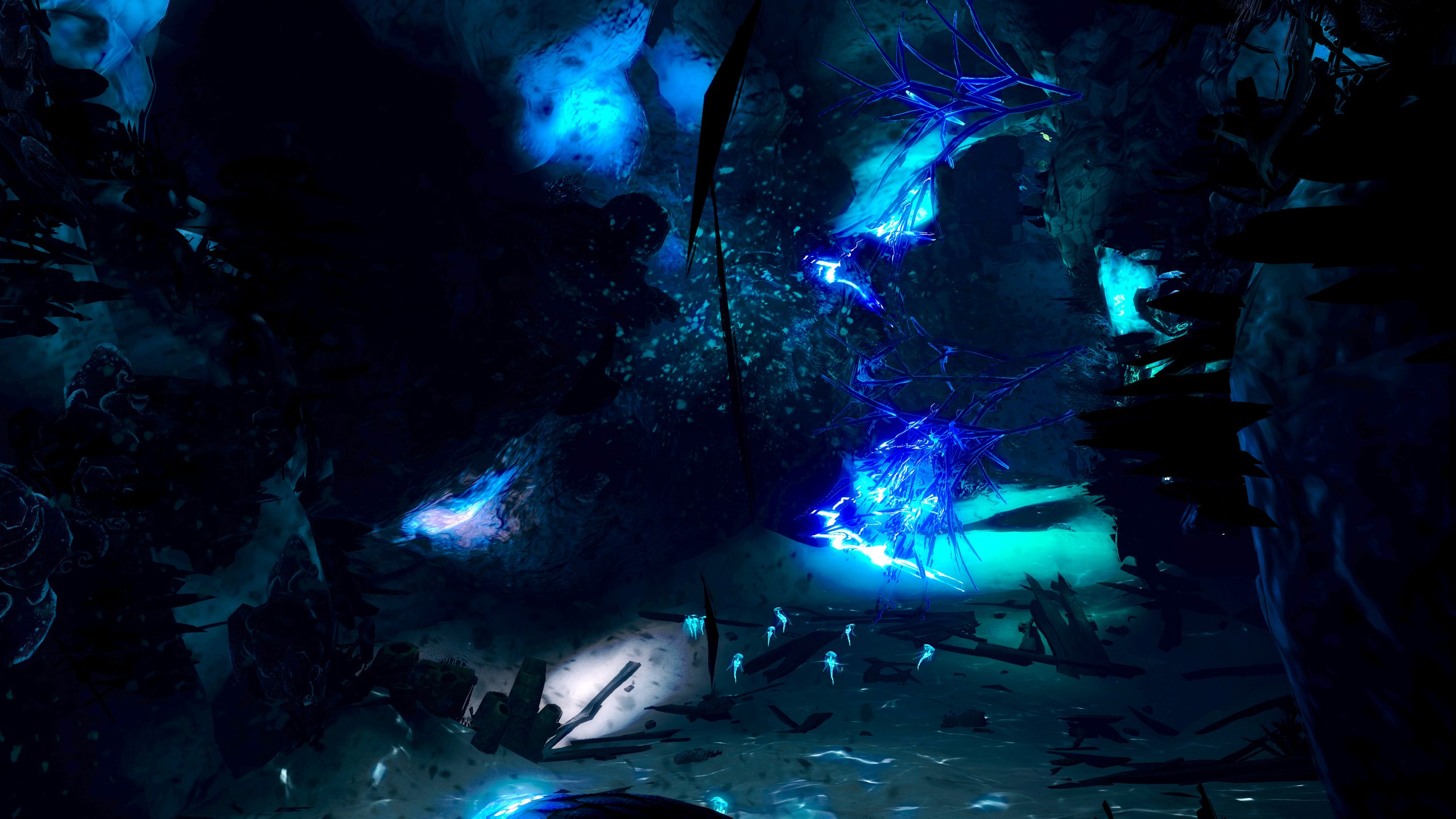 Building on the Leviathan film series, the Leviathan Legacy VR Trilogy jumps 150, 300 & 500 years into the future (respectively). The first part has been developed by working creatively with Marine Science researchers to inform the narrative structure and world-building of an immersive journey future-forecasting 150 years from now, where rising sea levels and calcification of the oceans have led to new hybrid species and social hierarchies.
Akin to world-building science-fiction, this project uses cutting-edge research to imagine and place the viewer in the middle of a plausible, and yet playful narrative journey through our coastal and marine environment of the future. Informed through ongoing dialogue and discussions with Marine biologists, Marine Engineers, Oceanographers and futurists – each instalment imagines the speculative future of reef ecosystems, interspecies hybridity and aquatic moons.
Follow Leviathan online
https://www.instagram.com/leviathancycle/
Shezad Dawood works across the disciplines of film, performance, painting, neon, sculpture and virtual reality to ask key questions of narrative, history and embodiment. Using the editing process as a method to explore both meanings and forms, his practice often involves collaboration and knowledge exchange, mapping across multiple audiences and communities. Through a fascination with the esoteric, otherness, the environment and architectures both material and virtual, Dawood interweaves stories, realities and symbolism to create richly layered artworks.
Recent solo exhibitions include: New Art Exchange, Nottingham (2020), Bluecoat Liverpool (2019); MOCA Toronto (2019); FriezeLIVE, London (2019); Kunstverein, Munich (2019); A Lost Future: Rubin Museum of Art, New York (2018); Fondazione Querini Stampalia, Venice (2017); Timothy Taylor, London (2016); Galerist, Istanbul (2016); Pioneer Works, Brooklyn (2015); Fig.2 at the ICA studio, London (2015); Parasol Unit, London (2014); Leeds Art Gallery and OCAT Xi'an, China (both 2014), Modern Art Oxford (2012).
Group exhibitions include: Lahore Biennial (2020), Dhaka Art Summit (2020), Sharjah Biennial 14, UAE (2019) – Jury Prize for Encroachments; Gwangju Biennale, Gwangju, South Korea (2018); Mori Art Museum, Tokyo (2016); Taipei Biennial (2014), Marrakech Biennial (2014), MACBA Barcelona (2014), Witte de With (2013), Busan Biennale (2010), Tate Triennial: Altermodern (2009), and the Venice Biennale (2009). Selected collections include Tate; UBS; LACMA, Los Angeles; National Gallery of Canada;Government Art Collection, UK; US Government Art Collection and The British Museum, London.
His film works have been screened internationally, including at the ICA, London; MoMA, New York and at various film festivals including CPH:DOX, Oberhausen, Aesthetica (winner of Artist's Film Prize 2015); his 2013 Feature Film : Piercing Brightness, was released theatrically and on Blu-Ray/DVD by Soda Pictures. Additional screenings include: Art Rotterdam (2018); Screen City Biennial, Stavanger (2017); Pera Museum, Istanbul (2016); CCA Warsaw (2015); Aspen Art Museum (2014); FACT Liverpool; Arnolfini, Cambridge Picturehouse, Oxford Picturehouse and London Sci-Fi Film Festival (all 2013).
Shezad Dawood was born in London in 1974 and trained at Central St Martin's and the Royal College of Art before undertaking a PhD at Leeds Metropolitan University. Dawood is a Senior Research Fellow in Experimental Media at the University of Westminster. He lives and works in London.