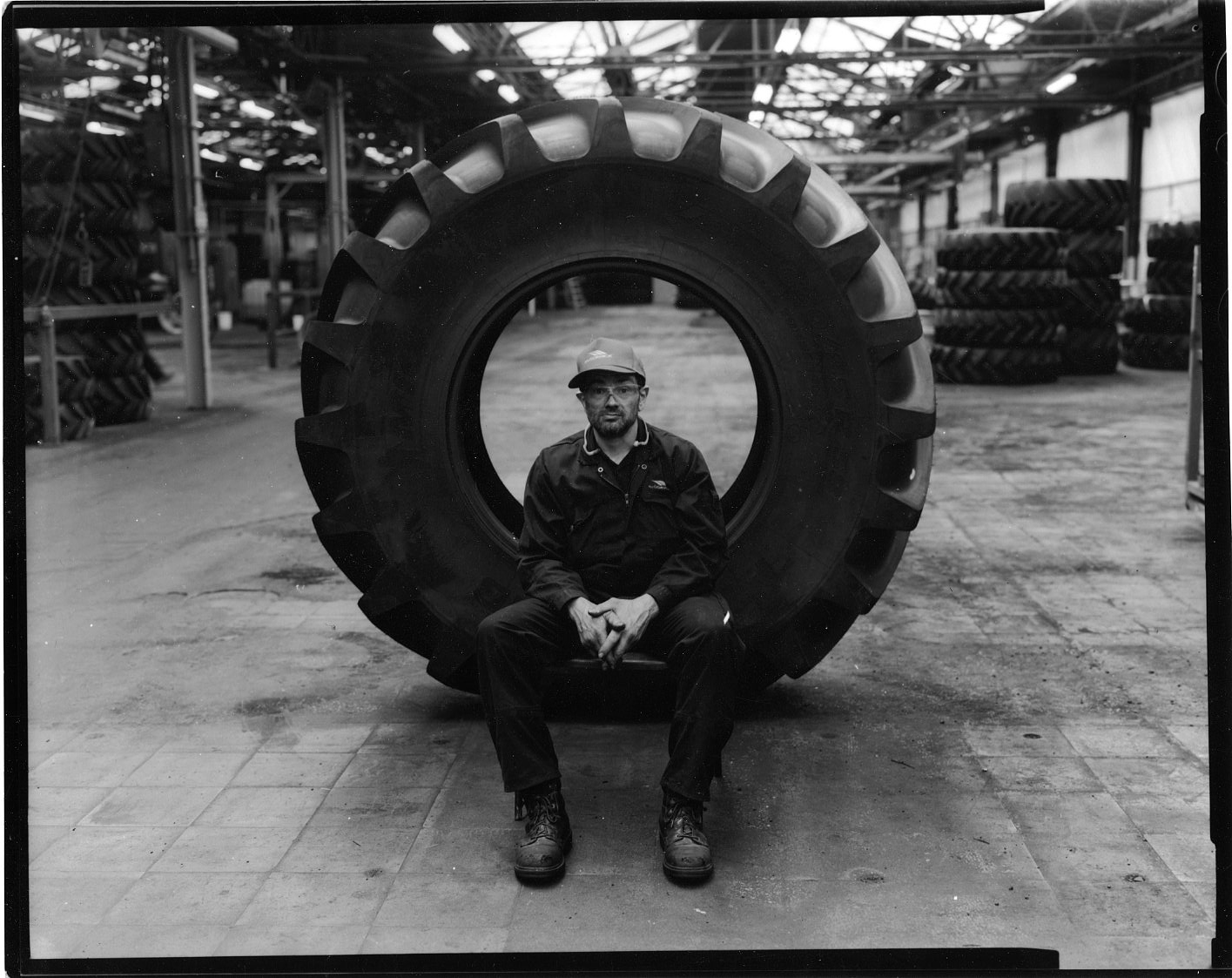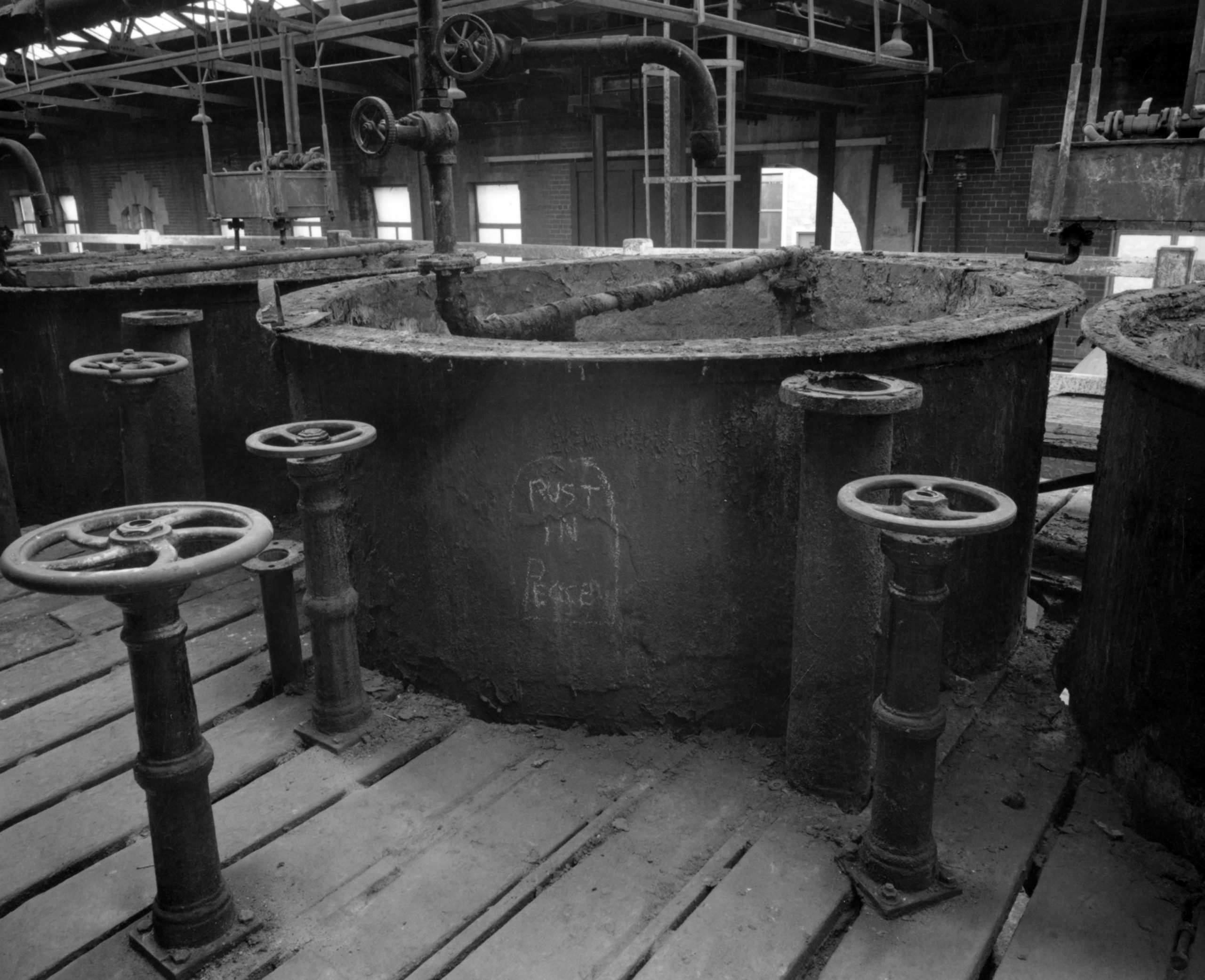 It is hard to imagine a more poignant exhibition for the age of Brexit and 'post-truth' politics than Mike Nelson's The Asset Strippers. Conveniently located for our political leaders, it is on view at Tate Britain, less than a mile away from the Houses of Parliament.
Mike Nelson is a quintessential 'artist's artist'. He came to prominence in the late 1990s for creating large-scale, immersive, narrative installations – like theatre or film sets. Painstakingly executed and nerdily precise in their deployment of references, the installations were formed of assemblages of cultural detritus. Moments and fragments of everything – from avant-garde art and literature, to counterculture movements and the local high-street – would find themselves collaged into unerringly effective works. In recent years however Nelson has pared back the work, losing much of the immersive theatricality and becoming more materially economical and object-based. Resolutely uncommercial, Nelson has achieved the highest critical acclaim – being twice nominated for the Turner Prize (2001 and 2007) and chosen to represent Britain at the Venice Biennale in 2001.
Created for the annual Tate Britain Commission, The Asset Strippers occupies the grand Duveen Galleries that form spine of the museum. It comprises a large series of sculptures, varying in size, each an assemblage of obsolete, mid-twentieth century industrial machinery: knitting machines from defunct textile factories (reminiscent of the ones Nelson grew up around in the East Midlands), the remains of a large drill, mixing machines, towers of rusting storage racks, the disembodied scoop from a digger. Nelson has spent a decade acquiring these relics of Britain's manufacturing and industrial past at asset stripping auctions.
Formally speaking his physical interventions are minimal. In most cases he has simply placed the objects on top of each other: a cement mixer sits on top of two work-worn wooden desk; a series of yellow, circular rakes atop two stories of I-beams and A-frames; an industrial sewing machine on top of a cupboard. In turn, each assemblage sits on a bed of paving stones, a wryly demotic nod to the idea of a plinth.
So simple is the work that the depth of its effect is extraordinary. Highly considered and semiotically tactical, Nelson's art insinuates itself into cultural and social contexts to conjure a specific sensibility and sometimes even a more precisely readable point. Here it is both. Somehow, these old objects, denuded of their origin function, peeling, rusting and falling slowly apart, hold themselves with a quiet and melancholy dignity in pointed contrast to the neoclassical grandeur of their temporary setting.
Absent and unrepresented are the people who once worked these machines. The evidence that they once existed comes in the physical interfaces between humans and machines; in the handles, knobs and buttons and the traces of less deliberate actions, the scratches, scuffs and stains. Like archeologists we conjure phantoms from the slightest of material cues. These works might be described as documentary sculpture, irrefutable evidence of a bygone era, memorialising the slow decline of British industry and the culture and communities that sustained and were sustained by it. In their simple materiality they are a quiet rebuke to the pretensions of high-culture and politics alike.
People are the subject of another body of work that tells the story of British industrial decline. Since the 1970s, Ian Beesley's photographs documented social and industrial history in the north of England:
"Four generations of my family have grafted in the foundries and mills of the North. After leaving school I worked in a mill, a foundry and sewage works. It was my fellow workers who encouraged me to find a profession and I found photography. I started photographing where I worked and who I worked with. I soon became aware of a 'gap' between the photographs of industry that were exhibited or published and what I saw and experienced as an industrial worker… One of the powers of social documentary is that it bears witness to people's lives and communities. It is vital in this day and age, when a lot of photography deals with celebrity or imagined or created worlds. A lot of my work is industrial history, things that could easily pass without being recognised or recorded as historic or of social importance."
One sad thread of Beesley's work comprises visual records of the last days of a host of individual factories, mines and companies – a list of which is at the bottom of the page. One of them was Salts Mill, a textile factory in Saltaire, near Bradford. The poet Ian McMillan wrote poems to accompany Beesley's photographs. Here, from this collaborative work, a eulogy for a Bobbin Doffer – whose task in the factory remove full bobbins or spindles of cotton or wool from spinning frames and replace them with new ones.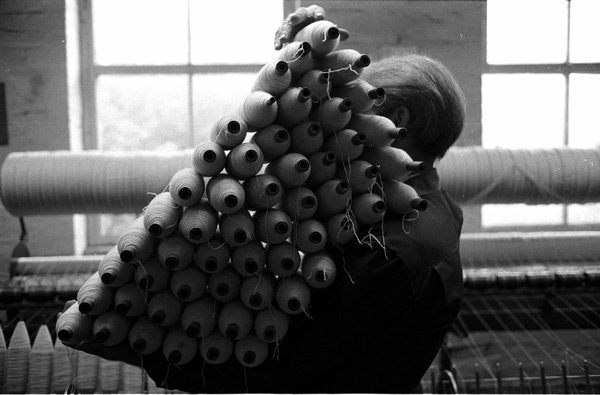 Bobbin Doffer Carrying History
Look at this man,
How he carries the bobbins
So carefully,
Each hand just so.
Here, and here.
He's carrying the jokes and he's carrying the stories
The Bobbin Doffers told each other in the brief rests
They took,
When the sun from the windows lit the wool in the air.
Look at this man,
How he carries the bobbins
In a kind of practised geometry of balancing.
He's carrying the structure of a lost language,
A lost way of thinking
A set of skills and solutions
That hung in the air for a while like wool in light,
Then faded.
Look at this man,
How he carries the bobbins
Like he's carrying history.
And he can't see where he's going
Can't see which way History's heading.
But we can see him.
Ian McMillan

Links
Mike Nelson, The Asset Strippers: https://www.tate.org.uk/whats-on/tate-britain/exhibition/mike-nelson
Mike Nelson: https://en.wikipedia.org/wiki/Mike_Nelson_(artist)
Ian Beesley: http://www.ianbeesley.com/
State of the Union, Richard Davenport-Hines, a review of The Rise and Fall of the British Nation by David Edgerton in The Times Literary Supplement, November 2018: https://www.the-tls.co.uk/articles/public/review-david-edgerton-british-nation/
A list of seventy companies photographed by Ian Beesley that no longer exist.
Textiles
Alston Scouring Mill, Thornton Road, Bradford.
A & M Textiles, Stanningley,Leeds.
Benson Turner Ltd,Wyke, Bradford.
Bents Mill, Goit Stock, Harden.
Bowling Green Mill, Bingley, Bradford.
Brackendale Spinning Co, Thackley, Bradford.
Bradford Conditioning House, Canal Road, Bradford
Bradford Wool Exchange, Market Street, Bradford.
British Wool Grading, Clayton, Bradford.
British Wool Sorters, Lower Holme Mills, Bradford.
British Mohair Spinners, Lidget Green, Bradford.
Brittania Mills, Bacup, Lancashire.
Busfield Ltd, Guiseley, Leeds.
Bairstow, Cawthra & Co, Gibbet Lane, Halifax.
Crossleys Shuttles, Todmorden.
Dawson Ltd, Little Germany, Bradford.
Dixon's Bobbin Mills, Steeton nr Keighley.
Esholts Sewage Works, Bradford.
Foster & Sons Ltd, Black Dyke Mills, Queensbury, Bradford.
Fox lace makers, Stanningley, Leeds.
Hattersley Ltd, Loom makers, Keighley.
Howarth Junr Ltd, Woolcombers, Bradford.
Illingworth Morris PLC, Fairweather Green, Bradford.
Ives Mill, Guiseley, Leeds.
Lister & Co, Listers Manningham Mills, Bradford.
Marshal Temple Mills, Leeds.
Pecket Well Fustian Mill, Hebden Bridge.
Peel wool bale packers, Bradford.
Queens Street Mill, Burnley.
Salts of Saltaire, Bradford.
Stroud Riley Drummond, Lumb Lane, Bradford.
Geo Strosse, Mungo & Shoddy Merchants, Dewsbury.
Tunwell Mills, Eccleshill, Bradford.
Vero & Everitt Hatmakers, Atherstone.
Victoria Mills, Miles Platting,Manchester.
Wallbank and Parkin Ltd, pattern & card makers, Bradford.
Weavercraft Carpets Lts, Dudley Hill, Bradford.
Weller & Sons Ltd, Little Germany, Bradford.
W & J Whitehead Ltd, Laisterdyke, Bradford.
Woolcombers Ltd, Fairweather Green, Bradford.
Iron & Steel
Kirstall Forge, Leeds.
Leggots Foundry Little Germany, Bradford.
Moulders Arms, Laisterdyke, Bradford
Monkmans non ferrous foundry, Bradford.
Outokumpu stainless steel, Sheffield.
Sloane & Davidson cast iron founders, Leeds.
Thackrays, Beeston, Leeds.
W Scotts Foundry, Barnsley.
West Yorkshire Foundries, Leeds.
Mining
Agecroft Miners Welfare Manchester.
Allerton Bywater Colliery, Yorkshire.
Bentley Miners Welfare, Yorkshire.
Bickershaw Colliery, Lancashire.
Bold Colliery, Lancashire.
Forest of Dean Freeminers.
Gawith & Hogarth snuff manufacturers, Kendal.
Grimethorpe Colliery, Bacup, Lancashire.
Hayroyds Colliery, Yorkshire.
Hargreaves transport (canals) Ltd, Castleford.
Kellingley Colliery, Yorkshire.
Maltby Miners Welfare, Yorkshire
Protector Lamp Company Ltd, Eccles, Salford,
Rossendale rope walk, Rossendale.
Rossington Colliery, Yorkshire.
Royston Coke works, Barnsley.
Scisset Miners Welfare, Yorkshire.
Other
Barker's tannery, Otley.
Chester's brewery, Salford.
Pirelli submarine cable manufacturing, Southampton.
Tetley's brewery, Leeds.