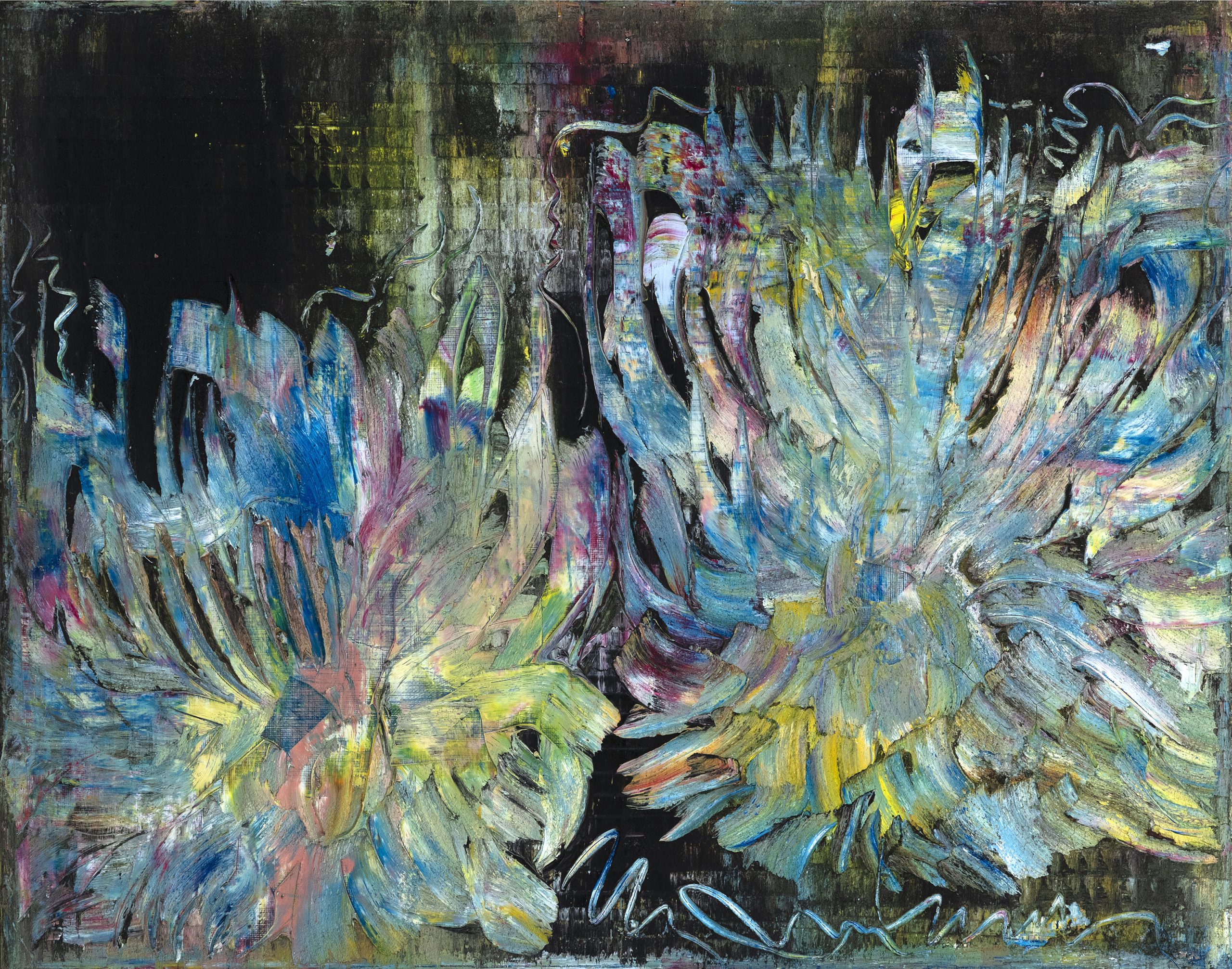 "Let's offer flowers, pour a cup of libation,
split open the skies and start anew on creation."

— Hafez
Modern Forms caught up with French-Iranian artist, Sassan Behnam-Bakhtiar on his latest series of paintings, Fleurs de l'Âme, recently exhibited at Villa Namouna, St Jean Cap Ferrat's new, public art space. Flowers have been a leitmotif for Sassan Behnam-Bakhtiar ever since they gained a special significance during a traumatic period of the artist's life in Iran (see interview). The series also draws on the long and rich history of flower painting, from Medieval Islamic and Christian traditions, through to more recent examples, as in the works of Van Gogh and Cezanne.
Born in Paris in 1984, Behnam-Bakhtiar lived in Tehran, Iran as a teenager and young adult, during a traumatic period in the country's history including the end of the Iran-Iraq war. His experiences from this time proved highly formative and have informed much of his subsequent work. Behnam-Bakhtiar has lived and worked in St-Jean- Cap-Ferrat since 2009
* * *
NH: Can you tell me about your new body of work Fleurs de l'Âme?
SBB: Yes, as you can see Fleurs de l'Âme, are little bit different from my previous works.
NH: In them I especially like the contrast between the textured grit of the backgrounds and the delicacy with which the petals and thus the forms of the flowers are articulated.
SBB: What you see when you are looking at the petals, is in fact the under painting that is popping out. I scrape out the forms of the flowers. Like excavations. Obviously, I add paint as well sometimes, but it depends. It's a mix of both. I just go with it, you' know? It feels very intuitive when it comes to doing these flowers and in fact the series began in a very playful way. I was working on my earlier series of paintings The Age of Energy and I started just scratching stuff on the surface of the canvas and I began scratching out the shapes of flowers. That's how these flowers were born.
NH: I also like that these paintings feel connected to some previous great depictions of flowers previously made in the South of France, in works of Van Gogh and Cezanne in particular.
SBB: These flowers for also very personal for me, as symbols. I've gone through a lot in my life, and one fairly traumatic experience I had when I was younger in Iran, was being kidnapped and imprisoned. I disappeared for three months and was tortured for few weeks in that time. Thankfully I'd already started working on my meditative practices and so on, which really helped me to survive in there. While I was there… I was in a little tiny cell, one by two metres perhaps, very cold, dressed only in my boxer-shorts, given no water for a about a week, no food for ten days, and I was there for two weeks. I lost about twenty kilos. All I could do was to rely on my inner self and I used my own energy to survive. What happened at one time, while I was meditating, I started visualising these very positive blurbs of flowers that popped here and there. Those flowers left a mark in my psyche, and I never forgotten their shape. So these Fleurs de l'Âme works connect to a very sensitive time in my life. Funnily enough, the more I move forward in my artistic career, I go back. I never planned to talk about this and other personal experiences I've had. I just wanted my work to do the talking, but people started asking but it got to the point it felt right to share my experiences. The first time I did that was around my show Extremis at Setareh Gallery in Düsseldorf.
NH: And how do you relate to your other works, most of which are abstract. Do you see these paintings as representing anything or are they more purely aesthetic works for you?
SBB: It depends, but generally, for me, they represent the life that is beyond what we see with our physical eyes, energy and a window to what is constantly happening all around and within us. But people see what they want to see. I see what I want to see. Some people come and tell me they see a sunset or a landscape, others see flowers…. but overall these latest works represent for me a sense of being reborn again under different rules and different values. Simple values, something as simple as going and lying on grass, exchanging some energy with the earth. Believe me, you're going to feel so much better if you do that for twenty minutes a day. I'm not trying to be especially philosophical about these things, even though most of the stuff I do might be seen as quite deep. If you read my essay The Age of Energy you'll understand where I'm going with all of this talk of energy. For me, the secret of life is energy and I'm trying to put it out there in a very simple way so that people can really relate to it and feel it, in their own way.