A group presentation featuring: Johnny Abrahams, Bram Bogart, Stephen Chambers, Leonardo Drew, Lakwena Maciver, Jamaal Petereman, Ibrahim El-Salahi, Masaaki Yamada
Curated by Modern Forms in collaboration with Vigo Gallery
Modern Forms is pleased to present Artists of Fame & Promise, a group presentation that brings works by some of the promising emerging artists on the art scene, together with masterpieces by canonically significant artists.
The idea of an Artists of Fame & Promise exhibition dates back to the early 1950s when London's Leicester Gallery first pioneered the concept in an annual exhibition. From a critical perspective the exhibitions served as fascinating opportunities to compare and contrast the work of different generations. For some of the young artists – including the likes of Jacob Epstein, William Roberts, David Bomberg and Christopher Nevinson—the shows served as invaluable stepping stones for their future success.
Displayed throughout Floreat House, the headquarters of Floreat Group in Mayfair, Artists of Fame & Promise sets up a cluster of rich connections and conversations between the work of the artists on show.
Mark-marking and the materiality of paint frames the dialogue between works of Belgian painter Bram Bogart (1921 – 2012) and Johnny Abrahams (American abstract painter b. 1979). Bogart is represented by two of the most significant works from his critically formative period in the mid-sixties: De Stijlkleur (1964) and Zonzucht (1965). Both works richly manifest his trademark 'ultra-impasto' style that explores the sculptural qualities of painting by applying and brushing incredibly thick dollops and smears of his own formulation of plaster and paint onto the canvas.
In contrast, the works of Johnny Abrahams are smooth and pristine passages of block colour— typically blue, black, red or white— described in elegant geometric shapes that are formed by the careful application of oil paint with a palette knife. The long, repeating ridges created in the paint's application catch the light: a subtle and elegant technique that activates the works each time they are seen.
Structures, grids, and the encoding of human stories in geometries form the common ground between the work of Leonadro Drew (b 1961) and Jamaal Peterman (b.1990). Based in Brooklyn, Drew's works hang in the Tate Modern, the Guggenheim and the Met. He produces sculptures from natural materials and—through processes of oxidation, burning and decay— creates works that are at once organic and human-made, speaking to the forms of forests, cities and the cyclical nature of existence, growth and decay.
Jamaal Peterman, born in South Florida and based now in New York, creates powerfully bright and bold, chromatic paintings that combine highly abstracted elements, seemingly from schematics that recall the cybernetic paintings of Peter Halley, with passages of figuration. The works address how post-war urban planning and development in US cities have systematically and negatively impacted the lived experience of African-Amercian communities within urban environments. As Peterman has said of his art "This is my journey on a road that American culture helps destroy and rebuild."
The works of Ibrahim El Salahi (b.1930) and Lakwena (b.1986) are equally boundary breaking through their use of synthesis as a creative strategy. El-Salahi, born in Sudan and based now in Oxford is widely regarded as one of the Godfathers of African modernism for his pioneering synthesis of African, Arabic and modernist visual languages in his work and his role in the genesis of the Khartoum school. In Artists of Fame & Promise, El Salahi is represented by two most important recent works, Untitled (2015) a three-panel oil painting and Reborn Sounds of Childhood Dreams IV, 2020.
Lakwena Maciver, London born and based, combines the powerful immediacy of graphic design with inspiring messages in text in her extraordinarily popular work, which has recently been added to the Modern Forms collection. It is testament to the work's quality and appeal to multiple audiences that in recent years it has been received with equal enthusiasm and both in the rarefied art world and in the public realm. Here at Floreat House, Lakwena, presents works from her 2017 series commissioned by Facebook and two of her now iconic Nothing Will Separate Us series that has already showed in both Covent Garden and Tate Modern.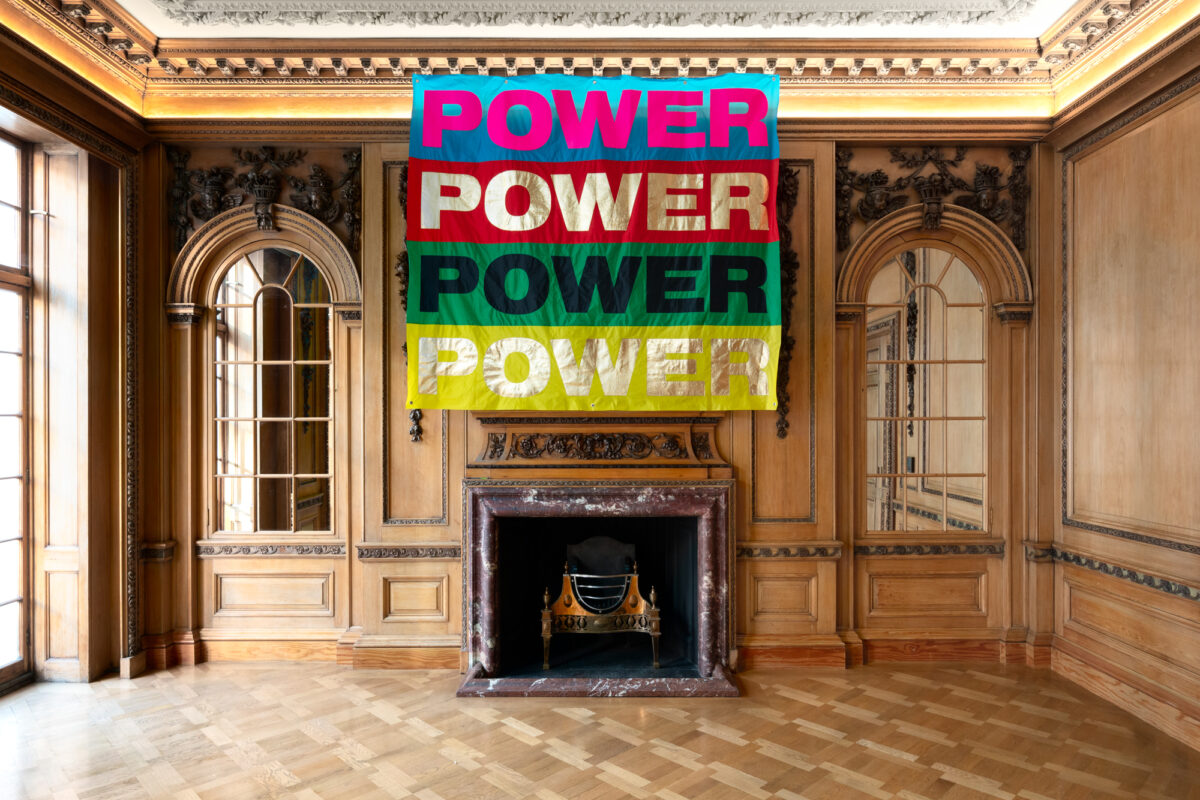 Email info@modernforms.org for further information on the display.