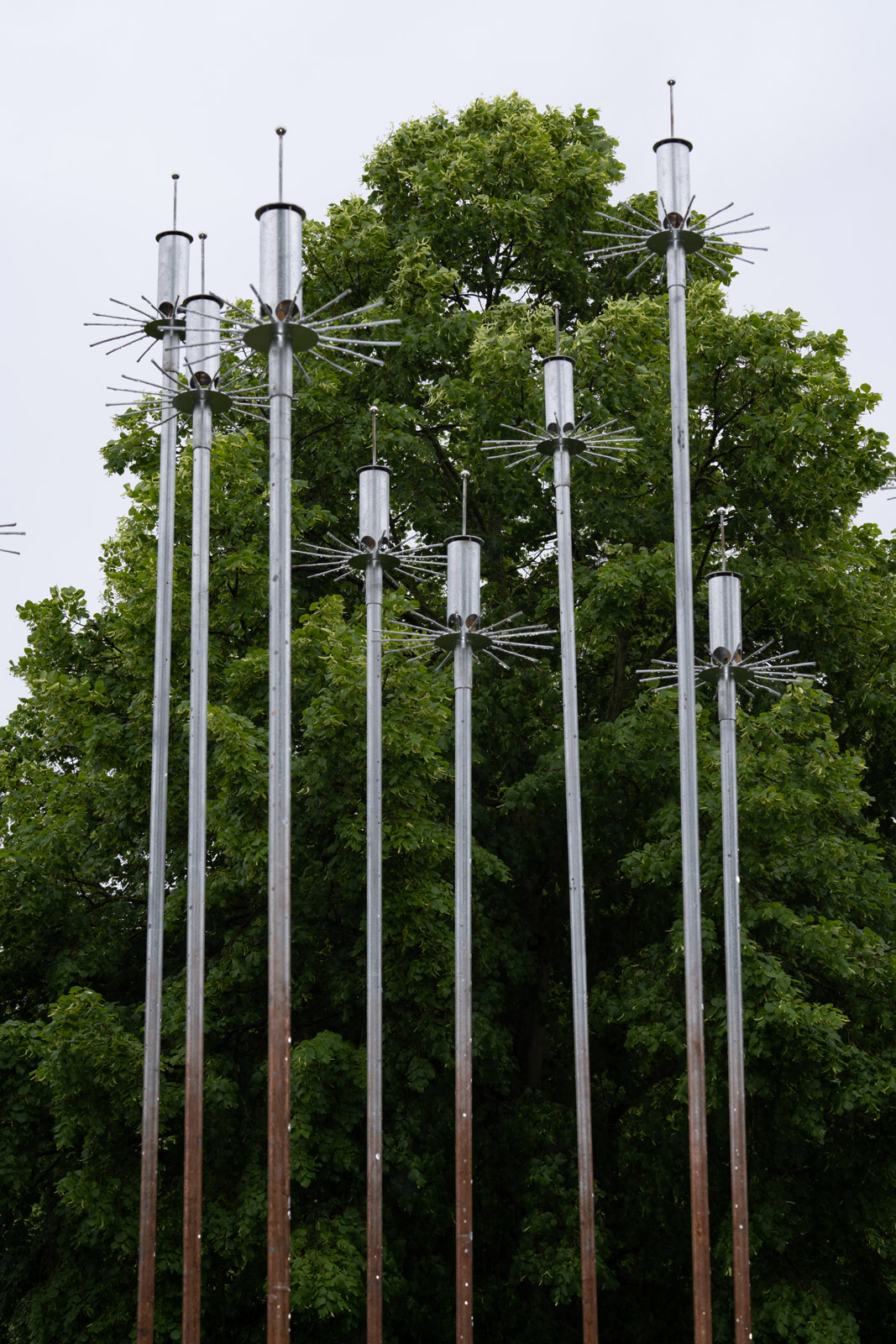 Launched on the Summer Solstice, 21 June, the Serpentine and Modern Forms Sculpture Commission presented artist Sophia Al-Maria's first public artwork
taraxos takes the form of a constellation of copper and steel seed achenes, which can be played by the wind or by visitors
The sculpture taraxos (2021) is inspired by the resilient qualities of the self-seeding dandelion (taraxacum officianale). Centring the dandelion's ability to thrive in unhospitable places Sophia Al-Maria proposes the weed as a model for freedom, resistance and understanding in the world today.
The sculpture was commissioned by Serpentine x Modern Forms in 2019 and it was conceived in contrast to the historic context of Speaker's Corner across the Park, as a place for self-introspection. The experience of the COVID-19 pandemic has shaped its final form to become a point of pilgrimage. taraxos is a meditative place for anyone to slow down time for themselves and take space to listen.
Visitors can sit beneath and stand amongst a constellation of 12 metal achenes, which take the form of futuristic dandelion 'seeds', to listen to the sculpture. Played by the wind, the sculpture can also be activated by touching the stems which are covered in copper, a material selected for its antimicrobial qualities. The central node of taraxos is a piece of reclaimed titanium from an airplane. This durable yet light material, ideal for air and space travel mirrors that of the seemingly fragile airborne dandelion seed.
taraxos is an ongoing project by Sophia Al-Maria at Serpentine inspired by the dandelion. Begun in 2019, it continues to pollinate different areas of the programme. On the Winter Solstice in 2020, the project took seed as a meditative audio exercise of breathwork titled tarax'sup?, written and performed by Al-Maria, with a musical score by Kelsey Lu and cover artwork by Tosh Basco (fka boychild). Available online and as a podcast, tarax'sup? can be listened to en route to the sculpture. On the Spring Equinox in 2021 an online text conversation, A Wish Is A Form Of Travel, between Al-Maria and artist Leila Dear considered the sacred geometry of flowers, and included new drawings by Dear. Visit tarax.live to listen to and read these commissions.
On the Autumn Equinox in September 2021 Sophia Al-Maria and her collaborators have been invited to produce a Park Night, part of Serpentine's experimental, interdisciplinary live series in the Serpentine Pavilion.
'Following our work with Sophia al-Maria on previous Serpentine Marathons and Serpentine Cinema programmes, we are delighted to be continuing our collaboration with the artist, filmmaker and writer this summer. Al-Maria's sculptural public art work, the third part of the Taraxos project, could not come at a better time than these early days of reopening – we invite you all to come to Kensington Gardens to sit with this work, to spend time in this space to rest and reset. We are proud to be working with Modern Forms to make this public sculpture commission possible.'

— Hans Ulrich Obrist, Artistic Director and Bettina Korek, CEO, Serpentine
'Modern Forms is proud to be working with Serpentine to bring this extraordinary artwork by Sophia Al-Maria to all of London. taraxos is a profoundly creative and thoughtful public sculpture. Against the politics of division, alienation from the natural world and the isolation brought by the pandemic, it provides a ritual space for self-expression, reflection and connection, open to everyone. It is an inspirational and timely reminder of the power of culture to bring us together.'

— Hussam Otaibi, Founder, Modern Forms & Managing Partner, Floreat and Nick Hackworth, Director, Modern Forms
Sophia Al-Maria was selected for this new public sculpture commission by Hans Ulrich Obrist, Artistic Director, Melissa Blanchflower, Curator, Exhibitions and Public Art, Serpentine and Nick Hackworth, Director, Modern Forms. The Serpentine x Modern Forms Sculpture Commission focuses on Serpentine's immediate environment as a space for artists to engage with the landscape of the park. Visitors are invited to enter the sculpture, to touch, to breathe, to make a wish.
About
Sophia Al-Maria is a Qatari-American artist who lives in London. Though her work spans many disciplines including drawing, film and screenwriting for TV, it is united by a preoccupation with the power of storytelling and myth, and in particular with imagining revisionist histories and alternative futures. Her work has been exhibited and published internationally and collaboration remains a fundamental principle of her expansive practice. Recent solo exhibitions include Julia Stoschek Collection, Düsseldorf (2020), Tate Britain, London (2019–20) and Whitney Museum of American Art, New York (2016). In 2018, she was the Writer-In-Residence at Whitechapel Gallery, London and she has a forthcoming Garage Museum of Contemporary Art, Moscow (2021). Al-Maria was the co-curator of the Serpentine Miracle Marathon in 2016, participated in the 2014 Extinction and 2015 Transformation Marathons and her films have been screening widely at Serpentine Cinemas and symposia, most recently as part of the General Ecology programme. taraxos is Al-Maria's first public artwork.
Modern Forms is a private collection and curatorial platform dedicated to supporting outstanding contemporary art through a programme of collecting, collaborations with public institutions and curatorial initiatives. Modern Forms was founded by British collector Hussam Otaibi and is run by Director, Nick Hackworth.
Floreat is an independent and privately held investment group headquartered in Mayfair, London. Originally formed in 2000, the business provides private client and investment management services to ultra-high net worth individuals and institutions across the globe. Key to Floreat's success to date has been its active approach to co-investing, where clients are invited to invest alongside the business across a range of assets and opportunities.